Old Ghost Road by electric bike – ride report
The short story - Maurice and his mum's modified (offroad wheels) eZee Sprint Alfine T4 with 700Wh battery rode the Old Ghost Road over 24 hours, including staying overnight at the spectacular Ghost Lake Hut. A blissful time was had for the first half of the trip. The fun rapidly diminished exactly when the battery ran out after the Boneyard climb. Ready for the (very) long story?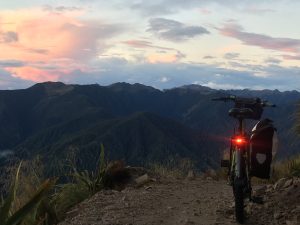 Staying with my parents in Oxford, Canterbury puts us in a good position to travel around the South Island. I made sure long ago that my parents possessed a pair of electric bikes, which proves useful for me whenever we visit! Last visit 2 years ago, all three generations rode the Otago Rail Trail and many years beforehand, Kaitlin and I rode from Nelson to Oxford, when little Oskar was little indeed, just a few months of growth inside Kaitlin's belly. Where to go this time?
On Boxing Day, the weather reports for the West Coast looked promising, so we made last minute accommodation bookings for all of us (2 grandparents, Kaitlin and I, and 2 little kids) in Westport, Little Whanganui and Hokitika, followed by Kumara Junction and Lake Kaniere for the younger two generations so that we could ride the West Coast Wilderness Trail after a bit of a car trip. I felt that wasn't taking full advantage of the transport and babysitting options available, so I booked for that very night in Ghost Lake Hut on the Old Ghost Road just for myself. I would get dropped off in Lyell to be met in Seddonville the next day. I'd never been mountain biking before and didn't have a MTB available to me, but figured (accurately enough) that if you just ride slowly, then you're not mountain biking, you're just riding slowly on bumpy ground and walking whenever you needed to.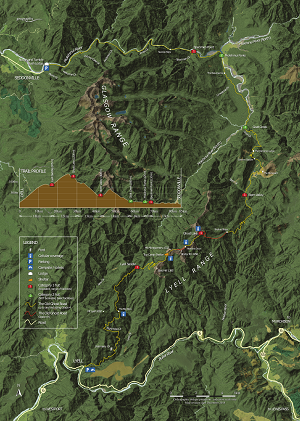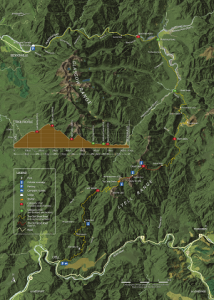 All sounded splendid, but making the bookings, getting the bikes and cars ready, packing our stuff and getting the two little kids moving all takes a while. As does driving through the Lewis Pass, balancing the kids eating and sleeping and pooing schedule through the travels. Time passes and by the time we are at Lyell, it's 5:30pm and raining, not generally considered a sensible time of day to head into mountains you've never been in before. The last time I did the exact same thing it was an attempt to get to Rotorua from Tokoroa through the forest roads and ended being rescued by a passing local near Mamaku village. My parents made a half-hearted attempt to talk me out of it this ride, but knew that they'd done much the same in years past. Oskar, on the other hand, was devastated watching me ride off into the rain over the first bridge ("what if you run out of battery!"). Teo wasn't happy either - he was furious that he wasn't coming too.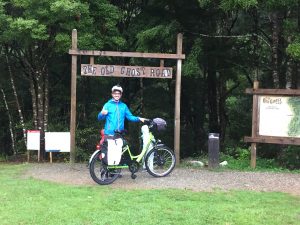 My main concern at that point was the track surface. I wasn't sure if it would be rideable on a heavy electric bike by a newbie. And if it's not rideable, then battery power isn't an advantage. At uphill walking speed, the 18km trip to the first hut would take until well after dark. Furthermore I knew the first hut (Lyell Saddle) to be full, which was why I booked the second hut (Ghost Lake), which is 30km away and 1000m up. I committed to decide in 1 hour whether to continue, or to give up and turn back and cycle on-road the ~60km to Westport where my family would be staying. The decision would be based mainly on how fast I was moving.
The track surface turned out to be beautifully rideable and the rain very quickly disappeared, leaving me blissfully riding through the clouds on a carpet of beech leaves with the luxury of a battery and motor to help me zoom up the climb. The setting was amazing - lush, green rainforest oozing water wherever you looked. It still a bit edgy, as it was late after all, and between stopping for eating, taking photos etc I was still going fairly slowly even with motor power. And you just never know when the track surface may change and it would only take a few km of walking to severely slow me down.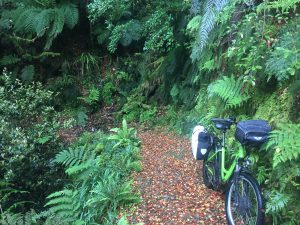 I made the 18km to the Lyell Hut by 8:10pm. I popped in for some water and to scope out whether or not I should be asking permission to sleep on the floor there. However, as friendly as the people inside were, the hut was very full so I decided I would press on to Ghost Lake hut, but not before sculling a lot of water (I was only carrying one bottle) and chatting about e-bikes with hut-folk. One of them asked how big my battery was (700Wh) and he advised me to 'stay on eco bro!' and told me about some people who tried on a 600Wh (625Wh actually) battery, made it to Ghost Lake hut with 28% battery remaining and opted to be helicoptered out! I thought at the time that I would be quite happy to still have 28% by Ghost Lake and at the time it sounded to me that they had just given up. (I read more about their attempt later. My two cents is that 28% would have been plenty to get them out, perhaps by 9 or 10pm that night).  Anyway, off I went…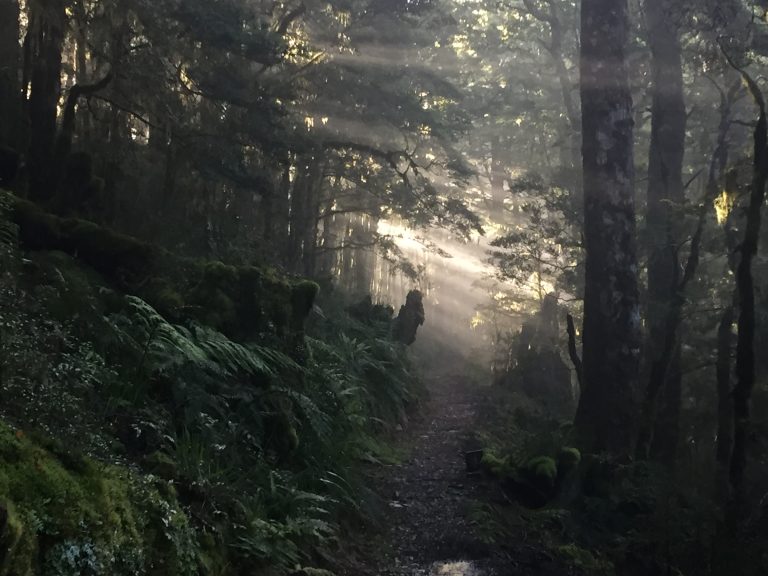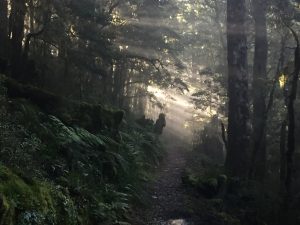 From here it was getting decidedly more tense. In the South Island summer, twilight lasts almost till 10pm, meaning I possibly had almost 2 hours of light left. However, this was in the mountains, so at any moment you can be in the dark depending on where the sun is relative to the side of the hill you're on. It was getting colder and I was running through all my energy stores at an alarming rate - from my handlebar bag into my belly and from my battery into the motor. The scenery, on the other hand, was getting even better and the dusky light in the forest was magical. I only had 12km to the hut but being not as fit as I once was, the regular stops made my average speed quite low. The ride is also tougher between the two huts as it gets steeper and the ground rockier. Every half hour that elapsed I found I'd only done a few km and the time of night was getting more ridiculous. I also had to balance the desire to get to the hut before dark vs having battery left for the next day. This kind of riding while constantly thinking about battery is what we call 'range anxiety'. I'm not as susceptible to range anxiety as most people, but the facts were fairly grim - I hadn't even done 25km, the battery was getting close to zero, it was past 9pm, the sun was on the other side of the hill, the total ride is 85km, so 55km for tomorrow (though very little climbing comparatively) even after making it to the hut. So on I went, probably a little too hard on the battery.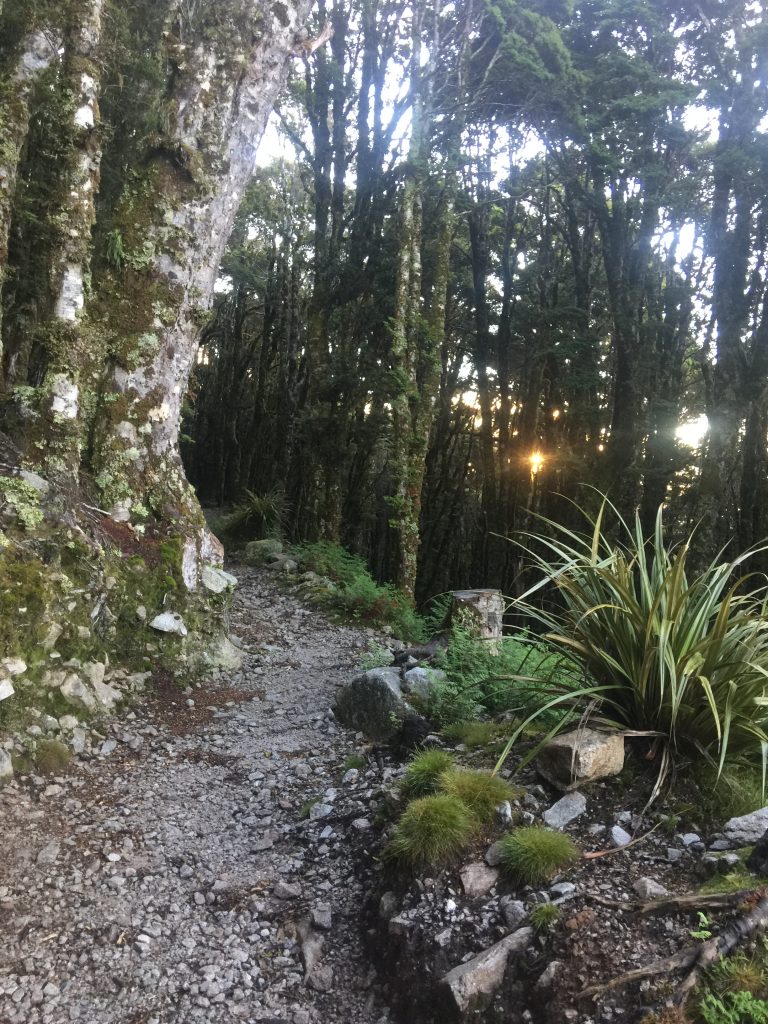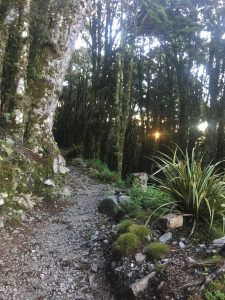 Luck stayed on my side and I got out of the forest and up to the ridge. The climbing was basically all done and there was much more visibility up top, despite it being almost 9:30pm. The scenery demanded a lot of photo stops and now it was clear I was easily going to make the hut. I turned down the power so that I had something for the next day and continued on. It didn't feel all that sensible riding my non-MTB with cold fingers (I had no gloves) along narrow tracks in the fading light while sleepy and fatigueing, but it was still quite enjoyable. Not long before the hut I entered the forest again and visibility was gone. The Sprint's light is very good, so I could still see okay, but decided I would stop using power to save battery and make sure I was riding more slowly and carefully, walking the few remaining uphills. Thus I limped in to Ghost Lake Hut at 10:15pm with effectively no more battery. I settled into a bunk bed next to someone who was still reading. He couldn't believe I'd just arrived right then. He asked me what it was like out there - "magical" was my answer.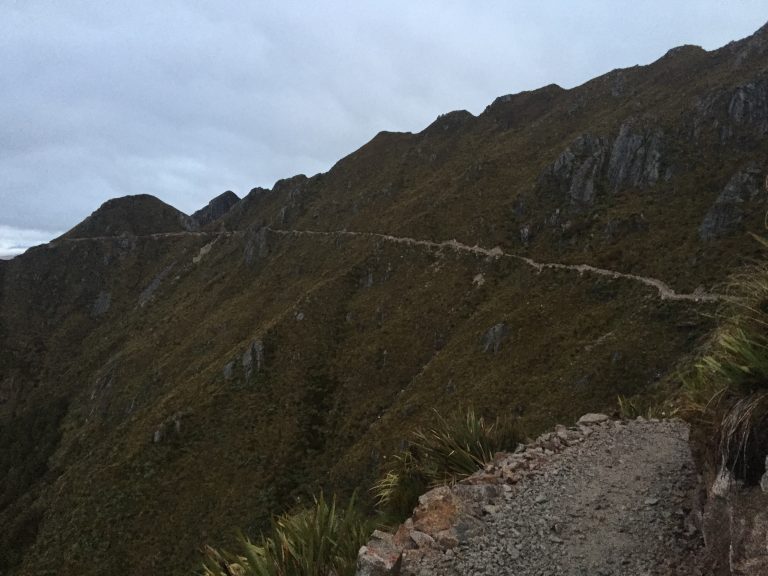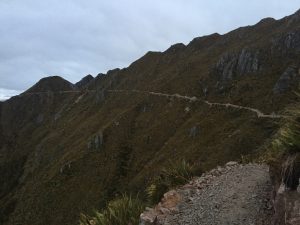 Some of the huts on the Old Ghost Road are luxurious and the Ghost Lake Hut is one of them. It's got gas cooking, new pots and knives - bowls, cutlery, mugs are all provided and the whole hut was wonderfully warm thanks to the wood burner. I was elated to have arrived but it seemed unfair to me that after all that work, I wasn't able to fall asleep until after midnight. I'd say that would be due to adrenalin and all the eating and drinking and riding I had been doing right up to 10pm meant that my body still wanted to go to the toilet all the time!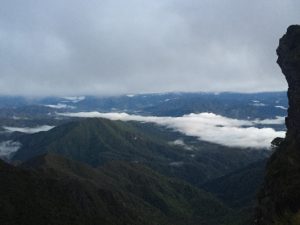 The evening is generally the best time to ride, I have found from previous (on-road) cycle tours. The sun isn't glaring, the traffic is lower, nothing feels rushed, it's not too hot and the light makes even the most mundane country golden and beautiful. The trade-off is that it's also the nicest time to do other things to, like set up camp, explore the town and anything else. In this case it meant I missed out on the pleasure of spending more time in the beautiful hut with its amazing views, so I made the most of it in the morning and didn't start pedalling until 8am.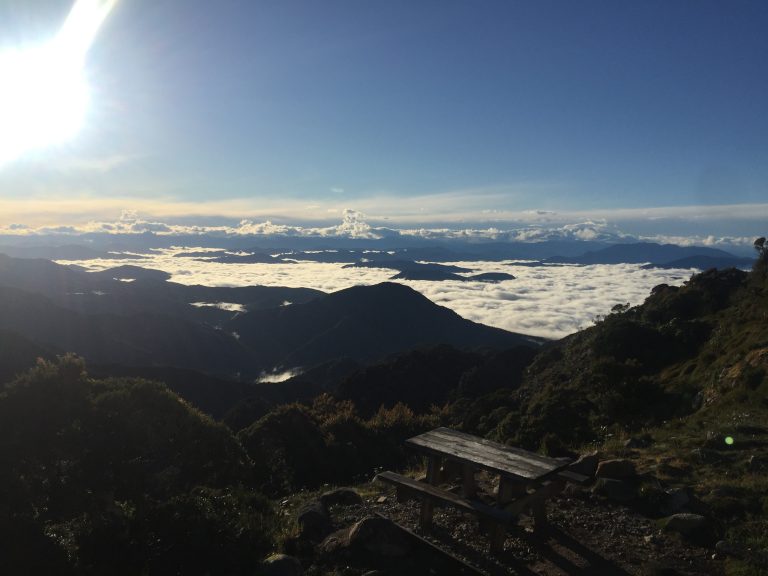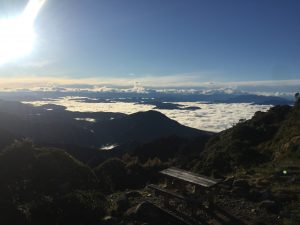 The others in the hut were interested to hear what happened that made me arrive so late. I didn't really have a good answer for that though - it was just from garden variety disorganisation and leaving home too late, nothing really happened, it was in fact the plan. We chatted e-bikes and that sort of thing, talking about my mum's bike I was on and the shop in Auckland. They all learned I had precious little battery left, but then again, none of them had any battery at all, so it didn't seem like a big deal to any of us, we all had to pedal out of there, that's all. My 'room-mate' from the night before offered me one of his instant porridge bags which I remain very grateful for, as my food stores weren't looking good. (Specifically I had left a slice of quiche, a small serving of salmon from christmas, a tiny piece of cheese, one chocolate bar, a piece of fruit cake, 1 cup of soup, 2 x 25g sticks of beef jerky and ~500g of dried nuts and sultanas and some seed crackers and that was before breakfast). Just like my battery, I had consumed the majority of the total stocks the day before for the big climbs (2 packs of sandwiches, 1 x bacon and egg pie, 2 bananas, bar of chocolate and some dried fruit/nuts). Some might say that's a mistake, that one should spread it out. I don't think that's true personally. If you're hungry and cycling, you must eat. As soon as (well perhaps an hour or two after) there's an imbalance between what you're eating and the energy your body is using, you're in trouble and will be walking. There's no advantage in making this moment arrive earlier in your ride. Unless you can buy more food, your only choice is to ride slower to ration out your energy expenditure. Battery power though, works a little differently, as it is possible (for some people) to ride without using any energy from the battery. With <10% of my battery left, my strategy would be to use no battery until the hill climb through the Boneyard. This would come in 10km time and was the only significant climb left in the ride. If there was anything after that, to only use it when I wasn't able to keep the bike moving at, say, 8-9kph on my own steam. I had 55km to go and all day to do it and was feeling all right about the situation, except for the dwindling food supply and the fact that most people do this 55km over two days and on a lightish MTB. Somehow I estimated I'd reach Seddonville by about 3pm, but that didn't take into account how slow the terrain is (or how slow I am), even when it's flat. More on that later.
My 'room-mate' went off first (I never saw him again) and myself and a group of 4 riders next, who were heading for Specimen Hut. We stuck together for quite a while, as any speed advantage their bikes gave them as quickly sucked up in the the faf that anyone who has ever ridden in a group knows well. They were very friendly and it was nice for my ego when one of them pointed out how good it was to see someone ride the Old Ghost Road on their 'mum's bike' instead of obsessing over all the upgrades and gear they were going to buy. Although this was the case, I have to point out that my mum's eZee Sprint is in fact a lot more suitable to the ride than it looks (for example, I passed up my dad's eZee Torq which would have been a nightmare).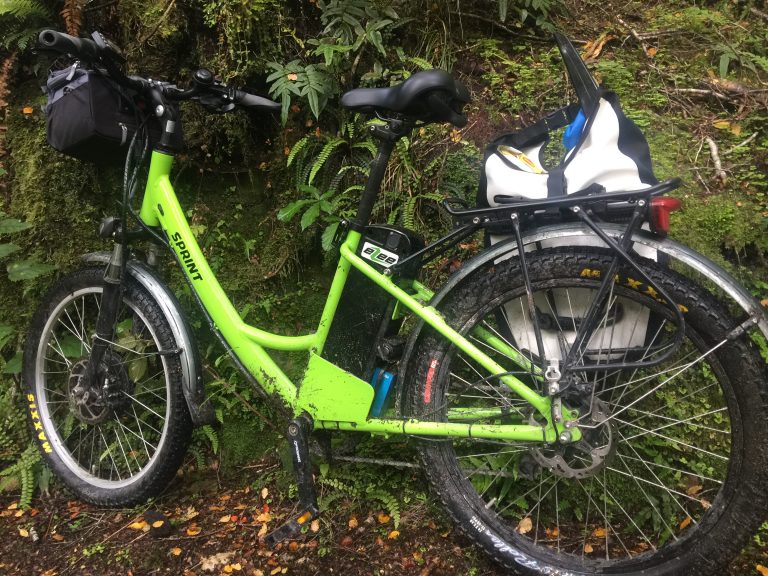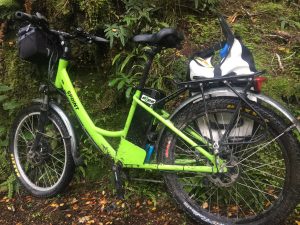 It's the "Alfine T4" model (not the 7L Classic model) with great brakes and the torque sensing helps a lot in technical situations. The modified wheels and tyres, Maxxis Holy Roller at 24 x 2.4", are as wide and cushy as anyone else's on the trail. The 24" wheels make the bike little and funny-looking, but easy to handle (although the pedals striking on the rocks on the path was annoying at times). I'd removed the kickstand before the ride. It's a FWD (front wheel drive) so a bit heavy at the front end, but that didn't matter and the traction on both wheels (dual wheel drive) was sometimes useful when climbing. The front forks are rubbish but then so are my MTB skills, so that also didnt matter. Naturally the bike is heavier than a non-MTB but on the flat that doesn't matter and up a hill I'll take the assistance over weight savings any day. The step through frame avoided some crashes as I was able to bail easily and often had to. The step-through also saved me a surprising amount of energy as I had to transition between riding and walking dozens, perhaps hundreds of times on the trip, due to lack of battery and the terrain often being too technical for me to ride. Well, in any case, the proof is in the pudding - both rider and bike made it out in one piece.
The Sprint is also a bike that I've ridden tens of thousands of km on, so I know how to handle it.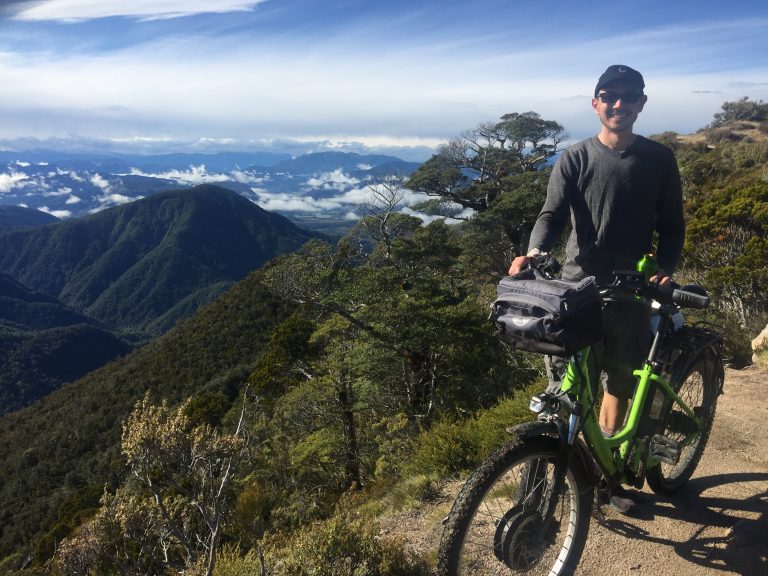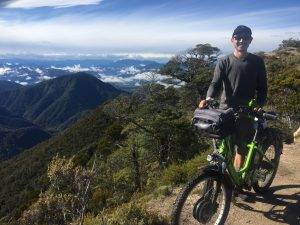 The first part of the day was pleasant and varied. The terrain was tricky enough that having the battery turned off didn't really make any difference as I was riding so slowly. My new buddies warned me when the 4km section of Grade 5 was about to start. I removed the bike's chainguard during this section and put it in the pannier bag. This part confirmed my earlier suspicions that Grade 5 MTB doesn't need to worry non-MTB riders if we're happy to just go really slowly. It is definitely an advantage to know how to control your bike of course, but if you're a bit green in that sense, you can always just walk. I'm sure I'll eat those words one day but this time it worked out fine. Luckily for my timelines, although I dismounted regularly, I rarely walked. Even the 'skyline steps' with countless steep staircases didn't slow us down much, as I didn't have to carry my bike, it just sort of bashed down the steps next to me as I walked. In fact, I can't recall having to carry my bike anywhere on the whole trip, the track builders have done a very good job.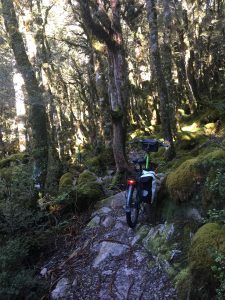 The downhill to Stern Valley was lovely riding and it felt good to get a bit of distance behind us with less time and effort. I stopped in the Stern Valley Hut for more binge drinking and to eat my quiche and salmon. As it had been mainly downhill or walking pace, I hadn't needed to eat much. The group of 4 caught up while I was having lunch and we all left together. From here the climbing was about to start so I bid them farewell. All going well, I wouldn't see them again as I was about to use the tiny remains of the battery energy on the hill climb to Solemn Saddle.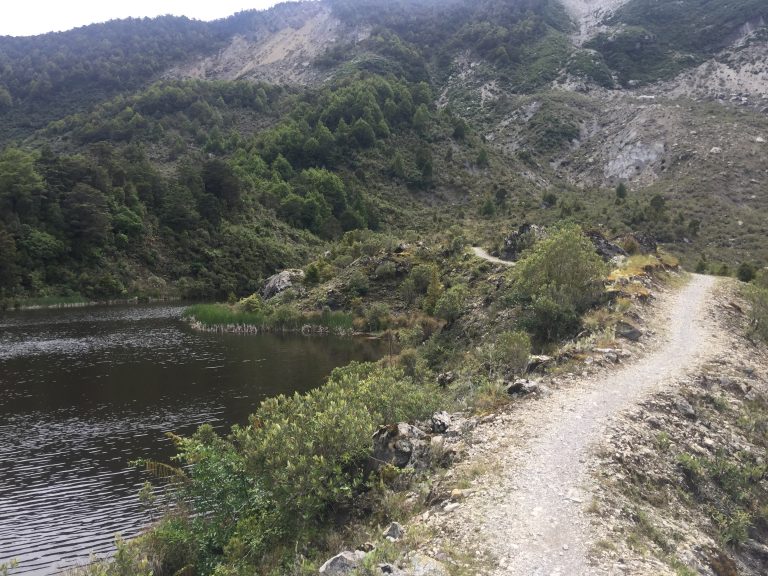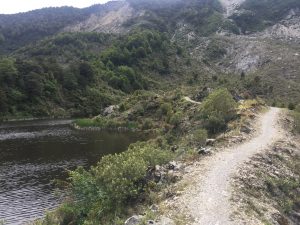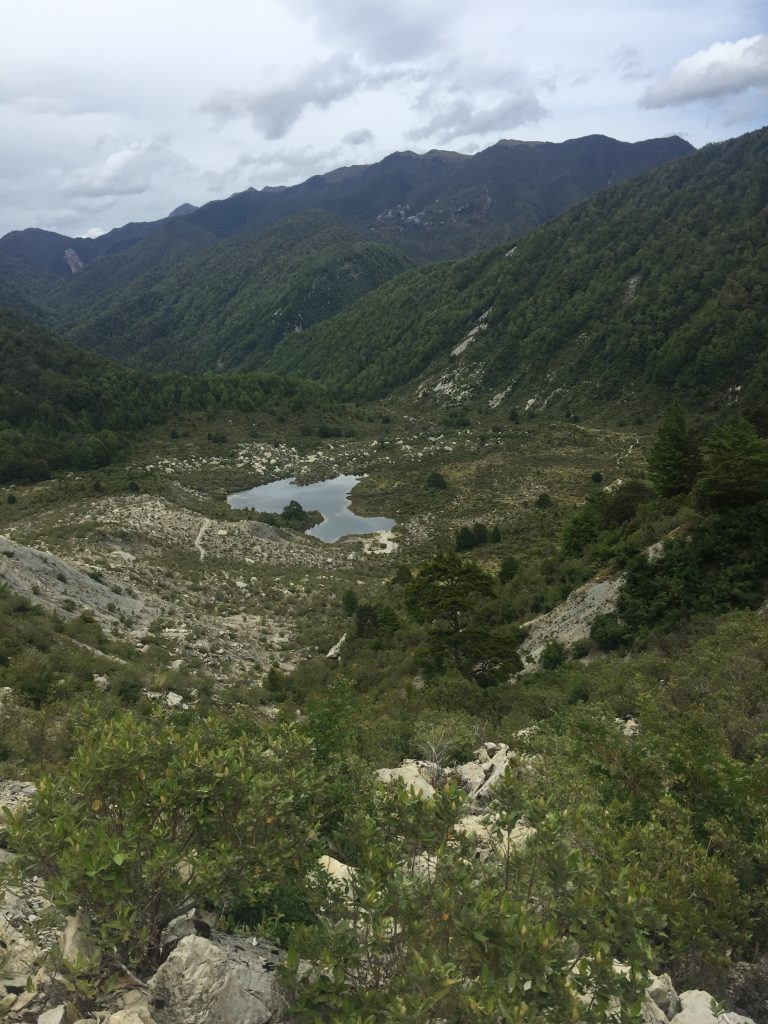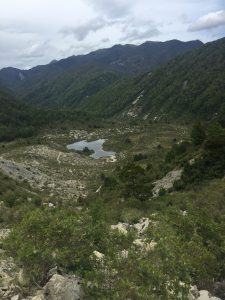 I was thanking my former self for having the sense to save at least a little bit of battery. Even at about a 1/5th of the previous day's climbing, it was still a significant effort and without the battery, I would have walked the whole thing. The reward was rolling down to Goat Creek. I like huts and made the small detour to go and have a look at Goat Creek Hut. However, you had to cross a river to get to it and the walkers coming out of it didn't have many nice things to say about it (roof leaking, water supply dubious) so I admired it from the riverbank and filled up my water bottle from the river instead and then escaped the sandflies and moved on towards Specimen Hut.
Even before this point, nothing was much fun. There was only enough battery left that when I walked up hills I could use the power to move the bike while I walked next to it. The only food I had left was the dried nuts and sultanas and seed crackers, which I was forcing myself to eat regularly. Soon enough I'd picked out all the sultanas and had no more sugar. My plan to try and use battery whenever I couldn't ride at 9kph wasn't viable, because that was all the time - even on a dead flat, I was too tired and the terrain too bumpy to manage any speed at all. My calculations that would see me at Seddonville at 3pm were based on being able to ride on the flats at 10-15kph and not stop constantly and neither condition could be satisfied. Someone in better shape would have managed without much trouble, but not me. The closer I was getting to the end, the slower I was going, the more breaks I needed and the less food I had. I was now walking anything that even looked slightly uphill, basically anything that I couldn't roll along on with minimal pedal effort. I wasn't really worried, as water's not a problem here and I've done enough long distance riding to know what was going to happen. I was just going to go slower and slower and walk more often but eventually I would get out as long as I kept forcing down some dried nuts every 10 minutes and kept moving. Knowing all this just made the experience all the more dreary, there was no adventure to be had, just unremarkable effort as I pedalled on to Specimen Point Hut with an estimate in my mind of 5:30pm arrival at Seddonville. The last my family knew of what was going on was when I texted from Ghost Lake at 8am and that I had little battery. So they'd expect me to take a while, but like me, they'd probably have been thinking about 3pm, so I was feeling a bit guilty that they might be waiting around somewhere.
Unlike Goats Creek, Specimen Point Hut is one of the luxury huts on the trail. There were walkers and riders about, who were finished for the day and I was wishing I was too. I searched the hut for any abandoned sugar to no avail, but I did find ketchup, which most people don't know is over 20% sugar. I splurted out a bowl of it and ate it with my crackers.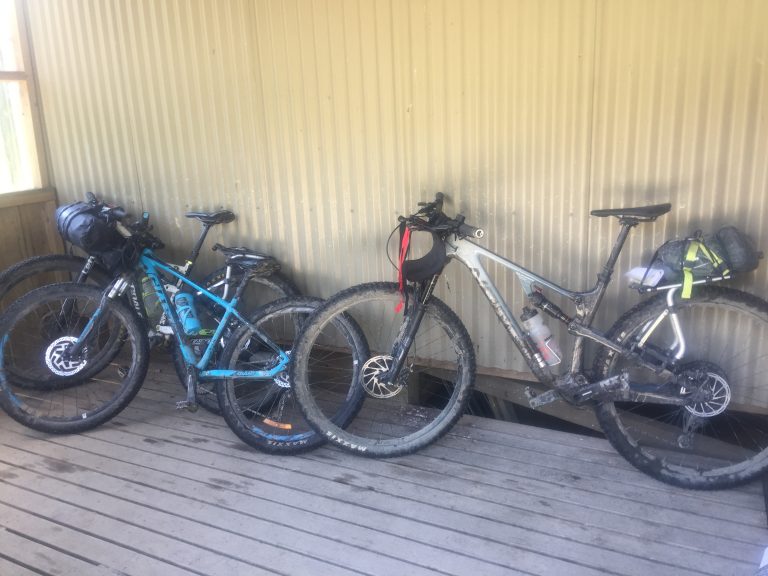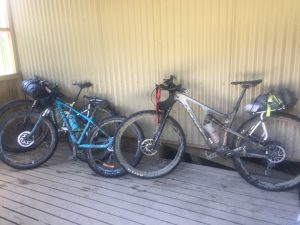 Almost 3pm and 17km to go. With 38km behind me for the day, it was nice to be below 20km remaining. However, as predicted, it just kept getting harder. I could hardly pedal at all and was forced to walk even more often. Walking is about 4kph, riding was about 8kph and then there were stops. At this rate, 17km can take a very long time. I was looking at a 6pm arrival, as long as I just kept moving. With just 10% of a battery, this section could have been wrapped up in an hour. Oh well.
The terrain then took a turn for the worse and the track started to get quite bumpy. Nothing serious for anyone who wasn't exhausted, but it was yet another factor to slow me down. When the terrain is rougher, tracks tend to go up and down a bit to get around and the larger rocks etc meant I couldn't use any of the momentum gained on the slight downhills.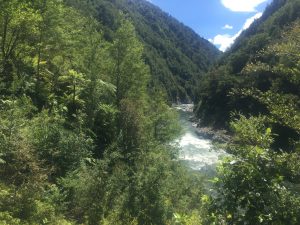 With 10km to go, I saw a happy sight - my dad riding towards me on the aforementioned eZee Torq. This touring e-bike has 28" wheels, 38mm wide tyres, no torque sensing, and a very large front chainring. It's your best friend on a long distance on-road e-bike tour but is one of the last bikes you want to be riding on a hiking track. Still, I wasn't all that surprised to see him, he's a South Islander and grew up riding tracks like that on 10 speed road bikes. I'd just then been wondering whether the family would have a) continued north to the booked accommodation at Little Whanganui and just wait for me to call them when I got out, or b) tried to find me. I learned that they'd arrived at Seddonville about 2pm and asked anyone coming out of the track if they'd seen me, which was generally a 'no'. What they didn't factor in is that because most people take 2-4 days (not 24 hours) to do the trail, anyone they saw coming out, started the trail well before me and so we never crossed paths. The one exception was my room-mate from the night before, who must be a good rider, as he popped out around 2:30pm and was able to tell them one thing they already knew (that I started around 8am from Ghost Lake) and one thing they didn't - that he was the first from the hut to come out the other end. In other words, he was the fastest person on the trail that day. My father thought this meant that I couldn't be all that far behind, but as above, most people don't come out in one day from Ghost Lake, so there's not much conclusion you can draw from meeting someone that did. Kaitlin knew better - that there could be quite some time difference between the fittest person on the trail riding a proper MTB vs Maurice on an electric city bike without battery. By about 3:30pm they decided that my dad would ride in to meet me and the others would carry on to the accommodation. It was probably around 4:30pm when he met me on the track.
The story was supposed to finish with him giving me a fresh battery (there were two in the car) and a full bottle of water and some more fruit cake and the two of us riding out at full speed. Unfortunately the bottle of water decided to pop open thanks to the terrain and flood the battery for perhaps an hour, thanks to the Ortlieb pannier bags, which do not let go of a single drop. So I scoffed down the cake, drank the remaining water and pointlessly tried to see if the submerged battery would still work.
One trick I've learned from poorly planned rides is how to get towed by another electric bike, so I tied the Torq's seatpost to my handlebar and away we went. Towing is a little difficult if you've ever tried it and on rough terrain with bikes that want to go different speeds (due to the tyres) it is tricky indeed. It was still partially effective and meant we could average 10kph instead of my ~5kph. The fruit cake and moral support meant I was able to stay on the bike for more or less the whole hour and keep pedalling, so at 6pm we emerged for a beer at the hotel at the other end!
Conclusion? Highly recommended! Excellent views and a great journey, but I'd suggest allowing more time and taking a larger battery. 36 hours and 1000Wh would have been about right for me, but everyone is different