eZee bike is an international electric bicycle brand with distribution throughout the world and with a long history in New Zealand.
Established in 2001, it is known for its uncompromising attention to what makes an electric bicycle wonderful for the person who matters most – the rider!

New Zealands Official eZee Bike Distributor
Electric Bike Team is the New Zealand distributor of eZee electric bicycles. We have a long history of collaborating with eZee, dating back to 2010, importing and distributing the brand throughout Australia with Glow Worm Bicycles, which continues it's work today.
In the face of fashions and fads and many other design considerations it has always put the customer first.
The result?
eZee bikes have:
The largest capacity batteries. 36V 20Ah (720Wh) as standard and an upgrade option to 36V 34Ah (1225Wh) for super long range riding! Perfect for hilly Auckland commutes or enjoying NZ's rail trails!
Absolutely fantastic hill-climbing performance. And that's what an electric bicycle is for!
The most user-friendly frames and features, such as step-through frames, AXA wheel locks for quick security, internal hub gears, double-leg kickstands and more
The most robust components. Nobody wants a puncture, but eZee is the only e-bike brand in New Zealand to provide as standard the undisputed most puncture-proof tyre in the world, the Schwalbe Marathon Plus.
Spare parts availability built into the design and backed up by comprehensive stock holdings. We can provide tech support in Auckland and around NZ, repairs, replacement batteries and spare parts for every single eZee bike that has ever rolled out of their factory. Many brands cannot provide parts for the bikes they sold this week!
The widest range of models, with truly a bicycle for everyone, from the timeless city commuting workhorse the eZee Sprint 7L that has been chosen by 6 councils in New Zealand, to the phenomenon that is the eZee Expedir electric cargo bicycle that has been liberating families in NZ and around the world from daily use of their cars.
Our recommendation as best electric bicycle for commercial use due to their robustness and dependability.
Locate An eZee Bike Dealer Near You
Not located in Auckland? No problems! Check out our dealer directory of eZee Bike stockists in a town or city near you.  Our helpful local dealers know a thing or two about eZee Bikes and can tap into our knowledge and expertise if and when required PLUS you can test ride one of our bikes in your city or hometown.
Learn More About eZee Bikes
eZee bike was established in 2001 by Wai Won Ching, a Singaporean man of the world who has spent the last 2 decades in China. He lives at the eZee factory in Shanghai where he is involved in the hands-on design and manufacture of all of the models.

A Bit of eZee Bike History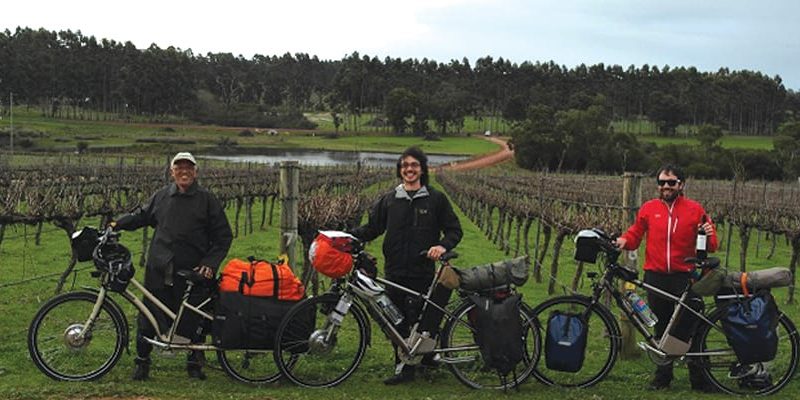 eZee is its own manufacturer and does not have to take its designs to other factories for production. This allows complete control over quality and the ability to pick which parts it uses.
Most electric bicycle factories have enormous production numbers, producing bikes for many different companies.
eZee's annual production is comparatively small, meaning their electric bicycles are hand-built, with staff working in teams around each phase of the assembly, rather than each person performing only one very small task on a conveyor belt production line.
Wai Won Ching is constantly travelling the world keeping abreast of the latest technology to see how cities across the globe are taking up electric bicycles. Wai Won Ching has tested his electric bicycles extensively on adventures across Africa, the entire Silk Road and accompanying Electric Bike Team on a 6,000km trip from Perth to Sydney in 2013. An unforgettable character with fierce determination, strong work ethic and great humour, Wai Won Ching has every reason to be proud of his pioneering work in the global electric bicycle industry and the world-beating e-bikes his company continues to produce.
Read a recent interview in New Zealand by Electric Bazza.
In 2018 he rode the Suntrip race on the eZee Longabike tilting recumbent trike.
Upon relocating to Auckland in 2015, Maurice Wells, founder of Electric Bike Team, begun selling eZee bikes for the (former) local distributor from his garage (carport actually). This helped him hit the ground running when they opened their premises at 29 East Street Auckland in 2016 with a sub-distribution agreement in the Auckland area. By 2018 this has turned into nationwide distributorship of eZee products throughout New Zealand. To be involved with eZee is to be part of a tribe, whether you're Wai Won Ching himself, a national distributor, local re-seller or most importantly - a proud owner! We welcome you to join us!
Electric Bike Team hold the largest range of eZee electric bicycles in our showroom in Auckland for retail sale to locals and they distribute to dealers throughout New Zealand. They also repair, service or trade-in any older models for existing customers. eZee is their brand of recommendation for commercial use for city councils, corporate offices, delivery services and more.
"We welcome you to come and view our full range of models."
Have more questions? We're more than happy to answer, just get in touch with us and we'll go from there.