Description
We have a Multicharger in store for demo test rides.
The Multicharger.
Ride all the time and take everything with you.
What are you taking today? The two little ones to nursery? Tomorrow the big shop and at the weekend all the camping equipment for a few days at the lake. This much cargo space sounds like an E-Cargo bike – but the Multicharger is a cargo-optimised E-Bike in an off-road style and, as a GX model, with all-terrain off-road equipment. Its carefully designed cargo equipment options make it the ideal touring, family or transport E-Bike. And yet it is just as long as the Charger. This not only saves space, but also makes the Multicharger safe and agile to handle – whether you ride a lot, carry a lot of cargo or both.
Drive
The Bosch system
Reliable, performance-oriented and innovative – these are the standards to which we hold our E-Bikes, as well as all components and especially the drive system. That's why all Riese & Müller E-Bikes are equipped with the industry-leading Bosch drive system.
Motors
Depending on the model
Display
Depending on the configuration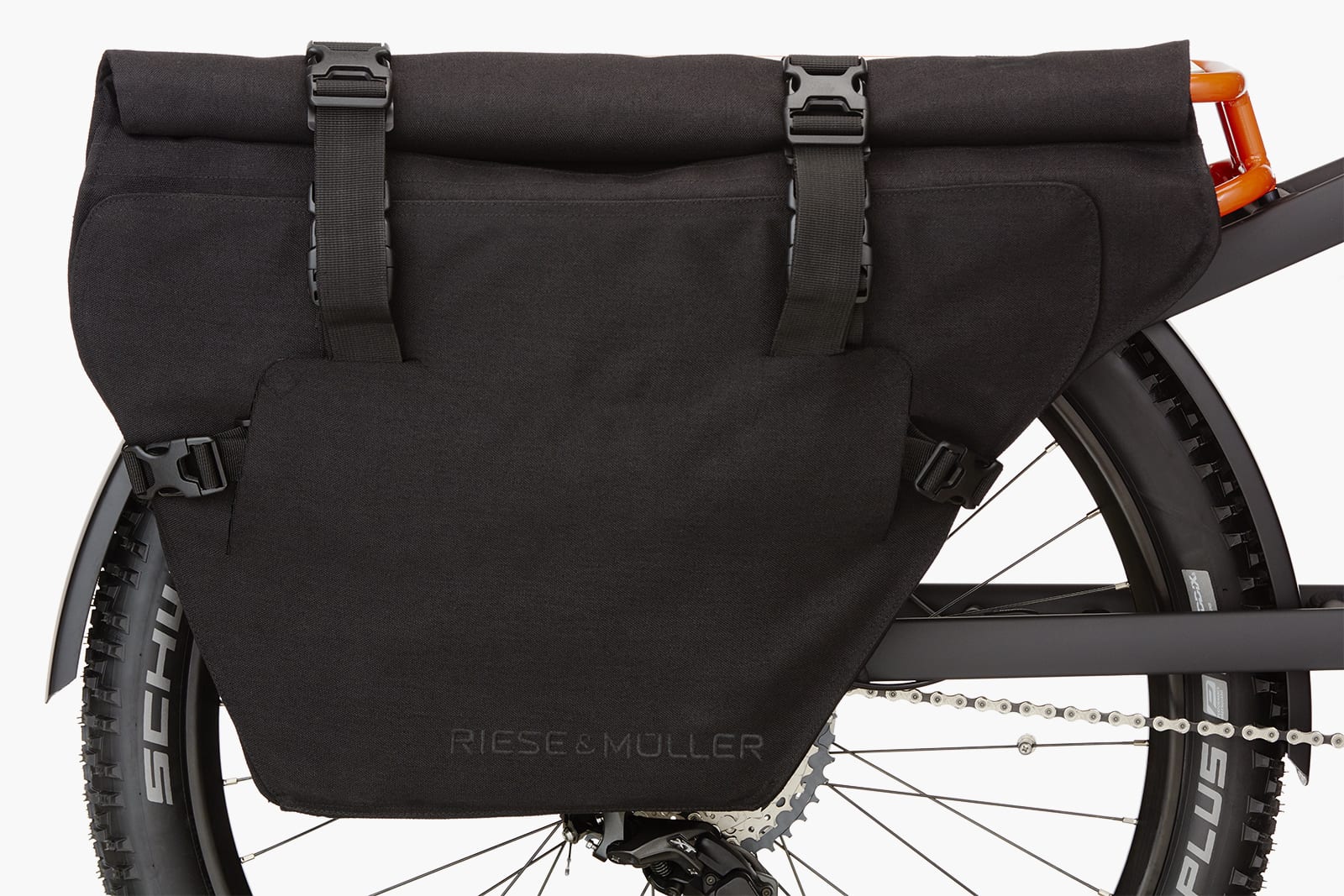 Flexible load transport
The cargo bike of E-Bikes.
The Multicharger has a 64.5 cm long carrier and an optional luggage space. These large, fixed, 33-litre panniers make it as easy and handy to transport shopping and parcels as it is to carry everyday items such as laptops, keys, bottles and a spare battery. The shape and size of the bags make optimum use of the Multicharger's cargo area. Excluding the luggage space, there is room for two standard bicycle bags on each side of the carrier. The standard front carrier offers additional transport space for luggage or smaller purchases.
Safe handling
Safe riding pleasure.
Force equals mass times acceleration. But anyone riding a fully loaded Multicharger for the first time might wonder whether this law of physics needs to be rewritten. Despite its generous loading volume, the Multicharger retains its extreme agility and manoeuvrability at all times, and you're in control. So you can master every situation, whether in the city or on a long ride in the country.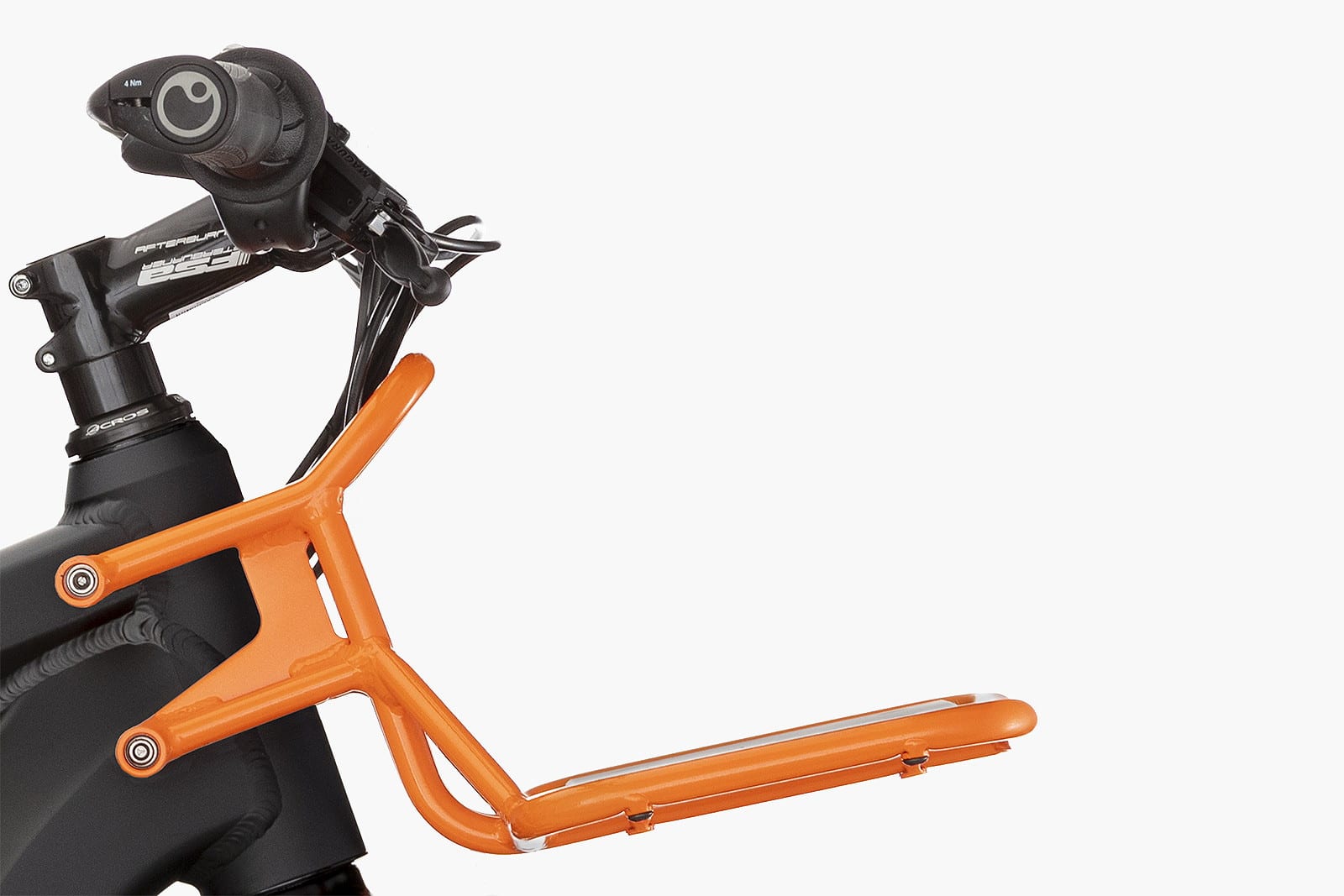 Low weight and high load capacity
Weighs a little. Carries a lot.
The Multicharger sets new standards in terms of the ratio of size and weight to loading options. So a full family shop is no problem at all. Or even two small children – safely accommodated in child seats. It can transport an additional load of up to 60 kg with surprising ease on its rear. And if you carry the Multicharger up or down a few steps, you'll be pleasantly surprised by how light it is: the Multicharger weighs less than 30 kg in most model variants.
I had never ridden an electric bike before, but it was amazing and I was totally hooked! The Electric Bike team is awesome, so helpful...
Reina Richards
a month ago
Apology. I accidentally touched something on screen that posted a 1 star review. I was looking on the website in my search for a...
Warwick Squire
a month ago
Service was tops and dealing with the team was effortless. Couldn't recommend them enough
Catrina Kuehler
2 months ago
So easy! Great service & team + so much faster than car in town!
Brilliant people. Knowledgeable, reliable and friendly. Great bikes