Radkutsche Rapid Electric Cargo Bike
Hand built German cargo bike with eZee electric motor from factory – the most robust electric cargo bike you can get your hands on!
You can book your own personal cargo bike consultation here
Description
The Radkutsche Rapid is a collaboration between Radkutsche in Germany and eZee bike. Radkutsche produces hand built cargo bikes for the logistics (parcel delivery etc) market in Europe. eZee bike is the perfect match for heavy duty cargo carriers, with their robust, long lasting, high torque and highly efficient hub motors. The most important thing for a logistics e-bike is low maintenance and serviceability.
The Rapid is the 2-wheeled 'long john' or 'bakfiets' model of the Radkustche offering. It is longer than most box bikes out there, making it a good candidate for logistics and deliveries and also a unique offering in the family market, as it can seat 4 kids (with purchase of an additional bench). Please note that the spec differs in different markets. The belt drive version is not available in New Zealand or Australia.
Included in the price is a rain cover and 1 bench seat with 2 seat belts and a rain cover. All items are high quality and functional. However, they are not in the same league of detail as found on family-oriented bikes such as the Riese and Muller Load 75 or the Gazelle Cabby, as Radkutsche is founded in logistics – low maintenance, easily maintained designs is their forte. If that sounds like you, then with its tough motor and timeless frame, this will be your favourite family cargo bike on the market.
The Radkutsche Rapid was awarded international cargo bike of the year for 2019!
Manufacturer's description follows:
Once moving, one is surprised how simply and dynamically the Rapid is manoeuvred. Hand-built in Germany by an expert team of bike enthusiasts the Rapid boasts fascinating highlights, giving you freedom to live sustainably as well as experiencing unforgettable impressions through its streamlined design. With an extra-stable, yet agile two-wheeled load, the Rapid scores highly with a total weight load of up to 200kg.
The large front loading area at 83x50cm can easily be interchanged with various platforms, crates and tubs (not included). Make your own or upgrade to one in our range.
Further add ons like our family package serves the safe and comfortable transportation of children, with options for for carrying 2 or 4 children with an addon rain cover to protect everyone in front so your family can ride all day everyday.
The Electric Rapid is equipped with a variant of the highly acclaimed eZee electric motor. It is not only convincing with its legendary torque (70Nm), but also through its low wear and tear consumption. The battery compartment is integrated into the cargo area giving the Rapid a low centre of gravity and simple accessibility. The beauty of this battery is that it can be charged almost everywhere, is protected against cold in the winter and can also be operated with an exchange battery.
Family Setup
The safe family tub is designed for transporting children. The stable and surrounding aluminium frame protects the little ones. In the tub seats are installed at the front and back with your children secured with with Yepp seatbelts. (2 child family = front bench, 4 child family = front and back bench). The rain-cover can be added on with a simple click to effectively protect your children from rain, sun and wind.
Brand
Radkutsche
We at Radkutsche are a young team passionate about bicycling. For us, cargo bikes aren't just a profession, but a passion. We hope this is reflected in the quality of our e-bikes, transport bikes and rickshaws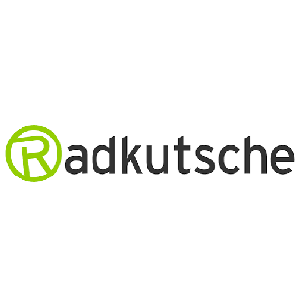 Additional information
| | |
| --- | --- |
| Battery Range | |
| Electric Motor Drive Model | |
| Speed | |
| Throttle | |