Brompton Folding Bicycles in NZ
Electric Bike Team is the authorised dealer for Brompton Bicycles in Auckland.
Many of us have personally been Brompton owners for years and have benefited first-hand from the most compact and versatile folding bicycle on the market – there is simply none other like it.
Perfect for daily riding, a great solution to theft issues (keep it with you indoors!), easy on the trains and the only bicycle that you can take on the Northern Express bus to the north shore. Also the world's best kept secret for those who must suffer using a car in Auckland – keep a Brompton in the boot so you can stop wherever convenient and ride in the last little bit – saves heaps of time and parking costs!
We have a selection of Brompton Bicycles in our shop available for demonstration, test ride and purchase.
July 2020 Update: Brompton Bicycles are sold out in almost all of the world. We purchase from the Australian stock and the soonest we will be able to order more is December 2020. Brompton's annual production capacity is 60,000 bikes. Total attempted orders by international distributors was 90,000, so 1 in 3 hopeful new owners will miss out this year.
We do not ship any of our Bromptons overseas. What little we have left of our shop stock is first come first served and pick up in store only. You can browse what is left here: https://ebiketeam.co.nz/collections/acoustic-bicycles/brompton-bicycles/
Alternatively, leave your details using the enquiry form link below and we will email in December when we have more stock.
Ready for your Brompton?
Enquire about our Brompton bikes, how we can help, or book a test ride today!
Alternatively, choose from the vast combinations of Brompton options and we can have your Brompton of choice built up and ready for you in a matter of days. Brompton dealers in NZ purchase from the Australian warehouse which holds over 100 Bromptons at any given time.
Unlike in other parts of the world, you don't need to wait months for your Brompton to be made, it can be yours within days. The easiest way to check pricing and availability is to go to Bromptonaustralia.com.au. The search bar is easy to use or you can browse through the entire collection.
If the bike you like is described as "available from a Brompton dealer", then that means it can arrive in our store in a few days. A quick tip – if you're looking for a particular model, just search by the handlebar type and the number of gears, rather than narrowing down whether or not it has mudguards, rack, schwalbe marathon tyres etc, as those choices can be customised easily by us. For example, if you're interested in an M-type Brompton with 6 gears, simply search for "M6" and you will see all the colours of Bromptons that are readily available.
If there isn't one there exactly set up as you wish, we can add the mudguards or rack or lighting system in store. For pricing simply add 20% to the AUD price shown. This accounts for exchange rate and higher GST in NZ and covers a small portion of the freight – the rest we subsidise for you.
You can also try a Brompton converted to electric with the Grintech Brompton conversion kit in store.
Naturally we carry a wide range of Brompton accessories such as luggage, tool kits and more. We service Bromptons and carry tyres, tubes and many other parts.
Have a Brompton already? You are warmly invited to join the Auckland Brompton Club for Brompton social rides, workshops and more!
Brompton Electric Bikes in NZ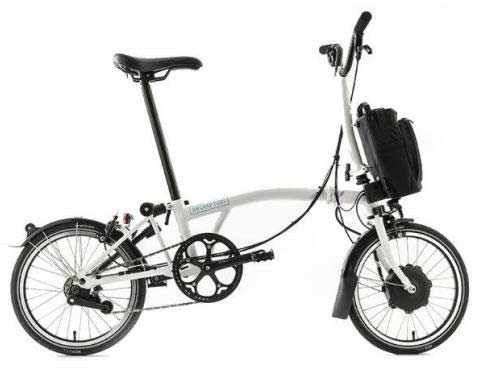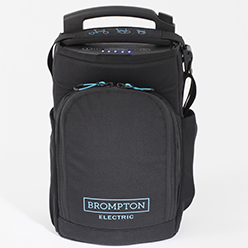 The official Brompton electric bike (pictured above) has not yet been released outside of the UK. We are hopeful it will be available in NZ in the near future. Please contact us if you'd like to be notified when it arrives. It has been a long time in waiting, during which time we have set up many Brompton owners with electric conversions using the Grintech Brompton Conversion kit from ebikes.ca in Canada
About Brompton Bikes – Learn more about these great folding bikes
The famous folding bike manufacturer operates under the name Brompton Bicycle in Greenford, London.
The Brompton folding bike and its range of accessories is the company's main product with the self-supporting compact design being its main drawcard.
All available models of the bicycle are built from the same hinged frame and 16 inch bicycle wheel size. The wheel size can be upgraded with various sizes and features like puncture proof run-flats by the owner.
Various componentry is added or replaced by titanium parts to form the many variations and models. The modular design has remained basically unchanged since the original patent was filed by founder Andrew Ritchie in 1979. As years progressed the design was refined with continual improvements and research.
The popularity of the Brompton brand has allowed it to become Britian's largest bicycle manufacturer by volume, producing 40,000 bicycles each year.
All Brompton bikes feature a curved frame that is synonymous with all models. The curved frame consists of a hinged main tube, rear triangle that pivots, and a hinged handle-bar stem. Steel is the primary metal used for the main tube and stem which feature on all models. Other metals like titanium are used for the rear triangle and fork and the material used depends on the model of bicycle. Unlike other bikes, Brompton frames are joined together by brazing instead of welding. The last type of metal used in Bromptons is aluminium which is usedf for the handlebars and peripheral components.
It may not look it, but a Brompton uses over 1,200 individual pieces with many being manufactured solely for Brompton. This is just another unique feature that makes this brand so different from other folding bike companies.
The year 2010 saw the introduction or multiple gearing options being made available for the customer to best adapt to their requirements. Gear combinations were available in one, two, three or six speed with even higher or lower gear ratios available as an option.
To order to make the folding mechanism work and provide user comfort, the Brompton design features a combined rear fold and suspension design. While in use, the rear triangle rests on a rubber spring to provide shock absorption and suspension between the rear wheel and the main tubal frame that supports the rider. The suspension is compressed by the rider's weight. For those seeking a more responsive ride or require additional weight tolerance, a factory-fitted suspension block is offered. The front wheel does not come with any suspension.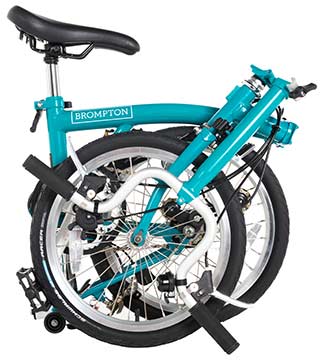 The Brompton Folding Mechanism
In order for the Brompton to fold, these elements are required:
The pivoting rear triangle – this allows the length to be shortened while keeping the bicycle chain in the same alignment. The main frame is specially designed with a slight arch to allow the wheel to swing under and into the parked position.

Small wheels on the top of the rear carrier or mud guard that allows the bike to be rolled when it's folded

A chain tensioner arm that is capable of swinging around in a wide arc. This is to retain control of the chain during the folding procedure without the chain coming loose.

A hinge on the main frame of the bicycle, mounted in the centre to allow the front wheel to be folded against the rear wheel.

A hinged handle-bar stem that allows the handle-bars to swing 180 degrees and lie parallel with the wheels when the bike is folded.

A dual purpose seat post that allows for variable height adjustment and locking the folded bike together during transport or transit.
Later iterations of the Brompton Folding Bike made the seat act as a carry handle when the bike was folded. Featuring finger grips built in the underside.
A practised rider can unfold or fold a Brompton Folding Bike in about 10-20 seconds.
Varying models of the Brompton Folding Bike range can be identified by the letter on each of a number. This describes the handle bar type, number of gears and factory fitted components respectively. A suffix is included to indicate any titanium upgrades.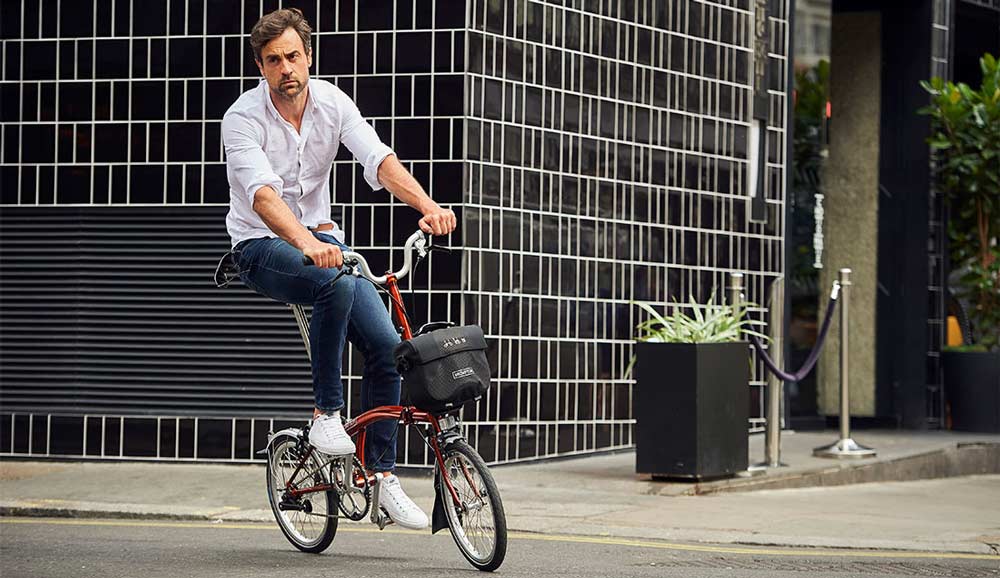 Brompton Factory Fitted Upgrades
Bromptons are famous for their level of upgradability and factory fitted features to make each bike perfect for their owner. A lot of features can be fitted across the entire Brompton Folding Bike and Brompton ebike range.
Larger wheels on the corner of the rack can be fitted to aid with pushing the folded bike. They also provide greater clearance over stock fitted rollers.
Lights can be added or removed as requested alongside two means of powering them. Either from a battery or two versions of a dynamo mounted in the front wheel hub.
To accommodate all rider heights, the seat posts can be swapped out for standard, extended or telescopic seat posts.
Brompton bikes are available in four colours: black, white, Cobalt blue or Orange.
Additional colours like titanium and raw lacquer can be ordered at extra cost. To show off the titanium upgrades, they are left unpainted.
The Brompton saddle can be upgraded to leather saddles with variants suited for both men and woman.
A front luggage rack is standard across all models to allow the carrying of cargo. It is fitted to the main frame instead of the forks of the handle-bars commonly seen on traditional bikes and ebikes.
For those seeking the lightest Brompton possible, there is also a "superlight" variant available. This replaces the rear triangle and front forks with titanium pieces and a selection of various small parts that are either made from the aforementioned metal or aluminum. The main frame still consists of tubular steel. This upgrade is the most expensive available and brings many models before the 10kg mark in terms of weight. To keep with the lightweight, no bike pump is provided nor is there a specific mount for it, a feature that is consistent throughout the range.
There is a large range of tyres that can also be fitted to a Brompton bicycle. Kevlar-based Brompton brand tyres, lighter and faster Kojak brand and robust puncture-resistant Schwalbe tyres are all available for this folding bicycle.

Due to the popularity of the Brompton brand of bycylces, there are many upgrades that can be purchased to aid every day usability.
A small saddle bag can be fitted behind the seat that can house the Brompton cover and any tools or spare parts that the user would like to carry at all times. Most handlebar variants can also accommodate handlebar bags.
If a front luggage block is fitted, Brompton can supply a choice of holding baskets, a large touring pannier, and even multiple forms of bicycle messenger flip over bags.
Aftermarket companies like Ortlieb offer waterproof bags, cotton duck canvas bags come from Carradice and a leather attaché style case can all be attached to the bicycle.
Most of these bags all share the common design of the luggage frame apart from the Carradice bags as their frame is different and requires purchasing separately.
The Brompton Folding Bike Company
Andrew Ritchie founded the company in 1976 and named it after the Brompton Oratory which was visible outside his bedroom workshop. The landmark overlooked the design of his first prototypes of the Brompton bikes.
Ritchie was a gardener at the time and sought funding from friends to license the designs. Ultimately he began building the bikes himself. 1982 saw the halt of production whilst he tried to gain further funding and had to work other jobs to make ends meet.
1986 found the Brompton name back in business with enough funding raised from friends and former customers to allow the production of the bikes to resume. By early 1988, the Brompton bikes were being mass produced and once again in circulation.
The company continued to grow from there and ultimately hit peak production of 40,000 bikes per year, employing over 190 people and grossing nearly a million pounds per month.