Description
The Tall Vertical Pack slides down behind the seat and can be fitted to the eZee Sprint, Forza, Carro (trike), Street, Expedir (cargo) and Quando (folding) models. It gives the highest battery capacity options and is taller than the standard sized eZee battery pack. The listing for the standard pack is here.
These are the batteries that change electric transport, letting you travel distances previously unimaginable by electric bicycle.
Introduced in 2012, it fits into any eZee that uses a vertical battery pack. It is not 'plug and play' with our conversion kits but it can be modified for such use.
There are two battery options with this pack. One is 36V 28Ah (1008Wh) and the other is a whopping 36V 34Ah (1224Wh), with over 1 kWh of stored electricity inside. Both are the same physical dimensions and weight. The use of higher grade, energy dense cells has allowed the 34Ah to fit in the same space and weight constraint.
Whether you need to do a long daily commute or you work by bicycle, love e-bike touring or you just plain don't want to even think about battery range while you go about your life, this is the battery that will bring you satisfaction.
After using a pair of the 36V 21Ah batteries from Cape York to Sydney, covering 4400km of the most demanding terrain in just 38 days of riding we can say that these are the batteries that will outlast you! It was rarely the batteries that stopped the day's riding goals. End of daylight, sore legs and bum or the call of dinner (or two) usually pulled up stumps before the batteries were finished. More recently, one of the 36V 28Ah packs was road tested on our 5500km e-bike ride from Perth to Sydney giving amazing range on a fully loaded touring electric bike.
It weighs 5.4kg and its dimensions are 75mm x 115mm x 470mm. This is 90mm taller than the standard eZeebike vertical pack battery, which has implications for seat height. See photo below. On the eZee Sprint and eZee Street A = 6cm. On the eZee Torq, A = 3cm, on the Forza RWD, A = 5.5cm and on the eZee Sprint GTS A = 0. If A = 0, then it means if you can ride with a standard battery, you can also ride with this one as the seat will have the full range of adjustment down.
The battery charger that is supplied standard with all eZeebikes is used to charge this battery, so there's no need to buy a new charger if you are upgrading your existing battery. As it is charged at the same rate, it will take longer to charge the higher energy capacity battery.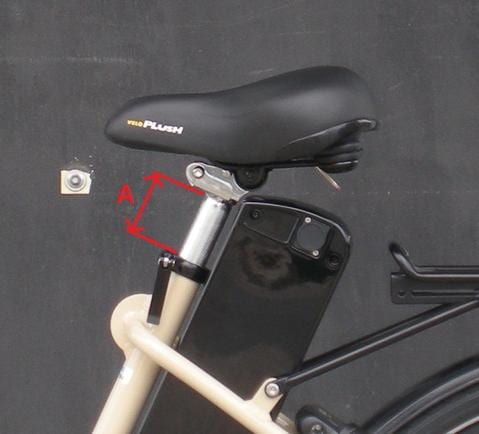 On eZee Sprint step through bikes, there needs to be a minimum of 6cm of exposed seapost (using the standard flippable seatpost) to use this battery.