Description
This is the Multicharger Mixte configuration of this product:
Multicharger Mixte GT Vario – pearl white, 47cm, 625Wh, front carrier with bag, safety bar kit –
—
Riese and Muller has gone in deeper into the family bike mid-tail cargo bike format with the Multicharger Mixte. The lower step-through frame makes it easier to get on and off your often loaded cargo bike and makes use of a front child seat possible.
The cargo bike of ebikes
A family's weekly shop, carrying another person or two children at the same time despite being surprisingly lightweight, the Multicharger Mixte is capable of transporting an additional load of up to 65 kg on its 64.5 cm long rear. Two large panniers, each holding approx. 33 litres, provide the luggage space, with the child passenger kit providing space for two children aged 6 or older protected by a double rail. Bulky goods can be securely fastened to the side loader, which also acts as a footrest or as a useful surface for carrying children's bikes with the standard front luggage carrier providing additional transport space.
Safe riding pleasure
Force equals mass times acceleration. But anyone riding a fully loaded Multicharger Mixte for the first time might wonder whether this law of physics needs to be rewritten. Despite its generous loading volume, the Multicharger Mixte retains its extreme agility and manoeuvrability at all times, and you're in control. So you can master every situation, whether in the city or on a long ride in the country.
Weighs a little. Carries a lot.
The Multicharger Mixte sets new standards in terms of the ratio of size and weight to loading options. So a full family shop is no problem at all. Or even two small children safely accommodated in child seats. It can transport an additional load of up to 60 kg with surprising ease on its rear. And if you carry the Multicharger Mixte up or down a few steps, you'll be pleasantly surprised by how light it is: the Multicharger Mixte weighs less than 30 kg in most model variants.
Riese & Muller bikes are built to order in Germany and then shipped to us. To configure your Multicharger Mixte go to the R&M website where you will be able to choose all the options you want, including batteries, transmission, and of course colour. If there's anything you would like to discuss, please give us a call (you'll find our telephone number in the pink horizontal bar on this page).
Options:
Transmission
The Multicharger Mixte is available with a choice of:
Enviolo continuously variable hub and Gates belt drive
Shimano Deore 10-speed derailleur.
Rholoff E-14 Speedhub with Gates belt drive
Drive
All Riese & Muller ebikes are equipped with the industry-leading Bosch drive system. Depending on the model; either Performance CX or Performance Speed.
Batteries
The Multicharger Mixte comes with a 500Wh power tube battery (dual battery not available for the Mixte frame).
Display
Your Multicharger Mixte can be configured with the Bosch Purion Display or a Smartphone hub.
Brand
Riese & Müller
Riese & Müller
It all began with two engineers, a good idea, and a garage. But not in California, rather in the south of Hesse. In Darmstadt, to be more precise. In the parent's courtyard. Immediately after the company was founded, it won the Innovation Prize 1993 and has grown to become an internationally renowned premium manufacturer of E-Bikes and folding bikes. As previously, Riese & Müller manufactures the most innovative bikes of tomorrow with the passion of yesteryear - in Mühltal, not far from the old garage.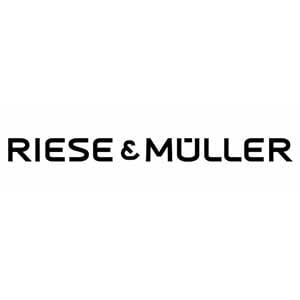 Additional information
| | |
| --- | --- |
| Colour | |
| R&M Extra Options | |
| Model | |
| Battery Range | |
| Electric Motor Drive Model | |
| Speed | |